The Curtin Open Knowledge Initiative (COKI) project is developing online, interactive data dashboards relating to aspects of university research performance.
Dashboards include a broad range of metrics, relating to open access, citations, collaboration, funders, publishers and journals, altmetrics, and the diversity of academic and non-academic staff.
A number of data sources have been integrated by the COKI project team to define a comprehensive set of outputs for universities around the world.
A schema of the methodology and bibliographic data sources used in the data collection for the dashboards is shown below.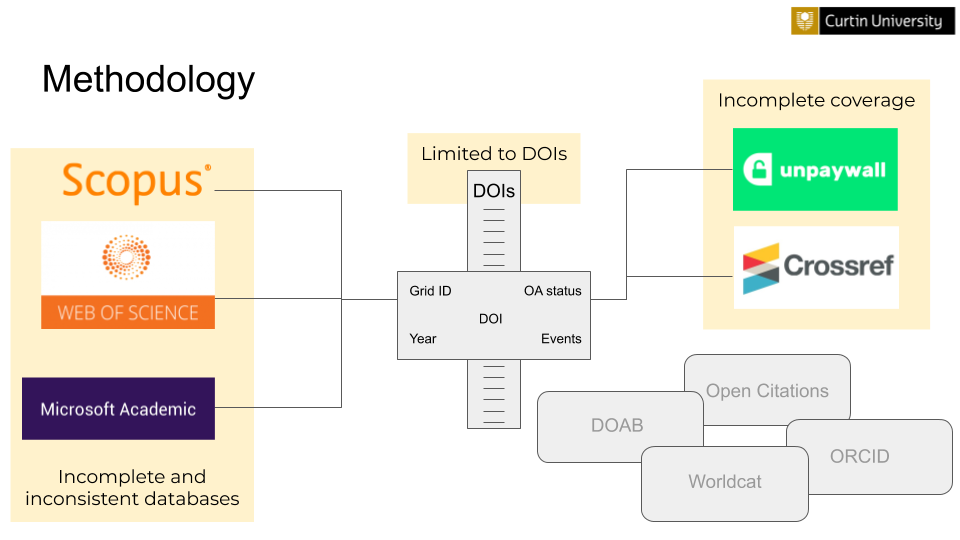 The project team have also provided the COKI Curtin Institutional Summary for 2000-2018 as an example of institutional reports that can be delivered.
Universities in Australia and Aotearoa New Zealand are currently reviewing and testing the data dashboard summaries for their institutions, working in collaboration with the Council of Australian University Librarians (CAUL), the Council of New Zealand University Librarians (CONZUL) and the Australasian Open Access Strategy Group (AOASG). This survey is helping inform refinement of the dashboard and project outputs.
If you would like to participate in the dashboard review, please follow this link to signup for access to the dashboard."